Get Your House Ready for Back To School!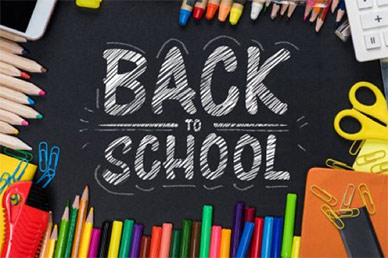 This year amidst the Covid-19 pandemic back to school might look a bit different than in previous years. In any case, it's a good idea to get your house clean and organized because once the kids go back to school everyone in the house gets busier. There is homework to help with, lunches to make, driving to do etc.
During the summer, your house might have taken a beating with dirt, sand and grass coming into your house. Especially your carpets and rugs might be in need of a thorough cleaning. Call our experts at SmithWerks and we'd be happy to help with that ( 604-924-0518)
Back to School is a great time to get things organized again and to get back into a routine. Here are some tips to get your house ready:
Organize Your Kids' Rooms
Start out with a clean slate. Organize your kids' rooms, clear out old papers from last year to make space for new supplies and papers that will inevitably come in. Have a designated place for everything including backpacks, shoes and sports gear.
Get a Calendar
Hang a calendar in a place that is easily accessible by all household members such as the kitchen. Keep track of things happening in the coming months.
Clean Kids' Closets
Clean out your kids' closets and get rid of everything that doesn't fit anymore. This way you have more space for jackets and backpacks. If you have a large hallway consider installing cubbies with hooks for jackets and backpacks, a place for shoes, instruments, sports gear etc. Having a place for everything to go will make day to day life a lot easier.
Set Up A Homework Zone
Create a homework zone so kids have their own study area. If there is space in their bedroom for a desk that's great. Otherwise the family room or living room also works. Consider installing pegboards. They are great for creating extra storage space for small items like pens, paintbrushes, and pencils. You can even hang a desk lamp from them!
Encourage your kids to keep their homework areas neat and tidy. Organizing artwork, projects, and report cards will cut down on clutter around the house. It also makes schoolwork quicker to find and at the end of the school year.
We are an award winning and trusted carpet and upholstery cleaning company and service Vancouver, North Vancouver, West Vancouver, Burnaby & New Westminster. At SmithWerks, providing excellent customer service is paramount. We know what's most important to our valued clients – reliability, professionalism and outstanding results. Call us today ( 604-924-0518) and let us help you get your house back in tip top shape for the new school year!
Find out more about our carpet cleaning services and area rug cleaning. Call us at 778-724-2555 to make an appointment.
Check out our 5 Star reviews on Google and find out why so many customers trust SmithWerks when it comes to their carpets and upholstery. Customer service is number one at SmithWerks!
We take your safety and that of our employees very seriously and have Covid-19 protocols in place. Find out more on our website.
We are excited to see you soon!
Take care and stay safe,
The SmithWerks team