Celebrate the Holiday Season at Home with Tasty Libations
Christmas season is here and there is so much to love about the holidays – the music, the cookies, the decorations, family and, of course, food! This year, most of us are going to be spending more time at home. Although you might not be able to host a big holiday feast this year due to COVID-19 restrictions, you can still indulge in a delicious Christmas dinner and make sure it is just as amazing as in past years.
Let's celebrate the holidays with tasty drinks (alcoholic and not), delicious baking and festive meals. Here are some recipes for your inspiration.
White Christmas Martini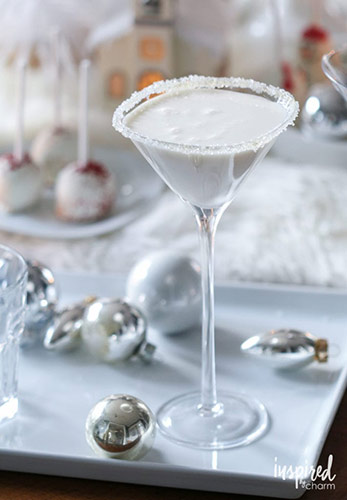 Celebrate the holiday season with this recipe for a White Christmas Martini. Garnished with a sparkly sugared rim, this cocktail is like an adults-only white chocolate milkshake in a martini glass.
Ingredients
2 ounces vanilla vodka
2 ounce white chocolate liqueur
1 ounce white creme de cacao
1 ounce half-and-half
Honey and coarse sanding sugar for rim garnish
Instructions
Pour the honey into a shallow dish and put the sanding sugar in another shallow dish. Coat the rim of the glass in the honey; then dip the rim in the sugar to coat evenly. Set the glass aside.

In a cocktail shaker filled with ice, add the vodka, white chocolate liqueur, creme de cacao, and half-and-half. Shake vigorously and strain into the prepared martini glass.


Recipe and photo credit: inspiredcharm.com. Find it here.


Cranberry Old Fashioned

This Cranberry Old Fashioned is a delicious and beautiful cocktail recipe to celebrate the holiday season.

Ingredients

3 ounces quality bourbon whiskey
1 ounce cranberry simple syrup*
3 shakes Angostura bitters
Garnish with orange peel, fresh Cranberries, and rosemary

Instructions

In a serving glass with ice, stir together the bourbon, cranberry simple syrup, and bitters. 


Garnish with orange peel, fresh cranberries, and rosemary.



Notes
*Cranberry Simple Syrup – In a saucepan, bring 2 cups of water, 1 cup of sugar, and one cup of fresh cranberries to a boil. Once boiling, cook for 4-5 minutes. Strain with a fine mesh sieve. Cool before serving.

Recipe and photo credit: inspiredcharm.com. Find it here




Christmas Punch (Alcoholic or Not)

Christmas Punch is an easy and delicious holiday party drink packed with fruits like cranberries, oranges, and pomegranates. Keep it non-alcoholic or add rum or vodka for extra holiday spirit!
Whether you're cuddled up watching Hallmark movies or dancing to the ultimate Christmas Party Playlist, make sure to have this punch in hand!

Ingredients

1 orange sliced
1 cup cranberries
1/2 cup pomegranate seeds
2 cup cranberry juice
2 cups orange juice
1 cup pomegranate juice
2 cups Sprite
1 cup white rum optional
Rosemary for garnish
Ice

Instructions

Combine all ingredients in a large pitcher or punch bowl over ice. If using a really large punch bowl, you can double the recipe.

Notes

This punch can be made ahead of time, but don't add the ice or soda until just before serving so as not to dilute or lose its fizz.
You can sub the lemon-lime soda for ginger ale.
You can add lemon and limes slices as well.
Keep alcohol on the side for guests to add their own and keep the punch itself kid-friendly. 
White rum, spiced rum, whiskey, and vodka is good with this recipe.

Recipe and photo credit: sugarandsoul.co. Find it here

Check out these DIY's and recipes to brighten the holidays and get you in the spirit of the season.

85 Best Christmas Cookies That'll Have You Baking All Season. You're going to want to stock up on extra flour and sugar!

38 Incredible Vegetarian Christmas Dinner Recipes to Put on Your Menu. Your whole quaranteam will love all of these vegetarian holiday recipes!

50+ Fun Christmas Food Ideas You Need to Add to Your Holiday Menu

From traditional dishes like honey glazed ham to nontraditional picks like mushroom stromboli, there's a holiday recipe that will satisfy whatever you and your quaranteam are craving.

50+ Great Gift Wrapping Ideas for the Most Festive Holiday Ever

Flex your creative muscles this season with some original Christmas wrapping ideas.

39 Stylish Christmas Table Decorations To Brighten Your Holiday Table

These decorations will look almost as good as your food on the table.

Check out our Facebook page for more seasonal treats, inspirational quotes, DIY's and to stay up to date with SmithWerks.

Customer service is number one at SmithWerks. We look forward to hearing from you!

Book your appointment with us by calling 778-724-2555 or fill out a quote request.

Take care and stay safe,
The SmithWerks team