Customer Service is Number one at SmithWerks!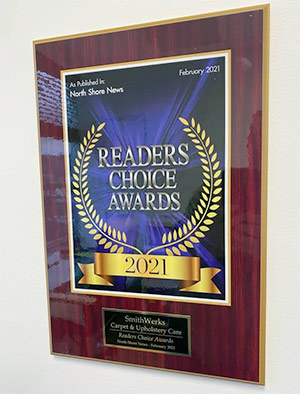 It has been a big month at SmithWerks. For the second time, we won the Readers Choice Awards and we couldn't be more proud!
Providing excellent customer service is paramount. We know what's most important to our valued clients – reliability, professionalism and outstanding results. Being voted number one by our valued customers is the best recognition we could ask for.Our staff is the best and we couldn't do it without them! A big thank you to our staff for providing the best service possible to our customers.
Here are a few things that, in addition to our customer service, make us special:
Track Record
We have over 20 years of providing superior service to the North Shore, Vancouver and Burnaby.
Professionalism
Our technicians are highly trained and have extensive experience.
Environmentally Safe Products
We use environmentally safe and effective products. The safety & health of our customers and staff is always our concern.
Clear and Simple Pricing
No surprises. When you call for a quote, feel confident that you know how much it costs.
Solid Appointment Times
We know that your time is important. We offer our customers specific appointment times so you can plan your day.
NO UPSELLING!
Our technician is there to provide you with excellent service and an outstanding cleaning. You won't be presented with unwanted and unexpected last minute charges on your bill.
Continuing Service!
We want to make sure you are absolutely satisfied with your SmithWerks experience. A representative from our office will touch base with you a day or two after your cleaning to ensure that everything was satisfactory. If you have any concerns or questions, we will work hard to address them.
Call us today for our excellent value pricing on our carpet, upholstery and area rug cleaning services! 604-924-0518
We have Covid-19 safety precautions in place! We look forward to finding out how we can help you!
The SmithWerks team