Tips To Keep Your Carpets Clean This Summer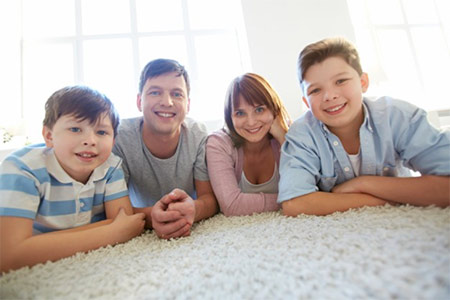 We are in the middle of summer and the weather has been great these last couple of weeks! During the summer, carpets tend to take the strain of many activities that are popular during this time such as backyard barbecues, gardening, family outings and having kids home on summer vacation. Dirt is brought into the house and onto the carpets.
Having your carpets professionally cleaned is a good idea! You'll have a house that is healthier and cleaner so you can enjoy a more comfortable summer all season long.
Here are some tips that you can use to keep your carpets and rugs clean!
1.) Vacuum Regularly
Vacuuming removes dirt, allergens and dust from rugs and carpets. It also prevents wear and tear on the fibres of the carpet because of sand and dirt particles. If children and pets are in your home, vacuuming 2-3 times a week should do. During the summer you might have to increase the frequency and vacuum more often as needed.
2.) Remove Shoes
Dirt from outside sticks to your shoes and gets carried into the house and onto your carpets. Before entering your home, ask people to remove their shoes so that mud, dirt and other allergens are not brought in the house.
3.) Use Doormats
A great way to protect carpets from the damage of dust and dirt brought in from outside is to use doormats. Doormats at entryways create a protective area to absorb dirt from your shoes. Choose one that is made from absorbent materials because these are best for removing dirt, moisture and mud.
4.) Use Area Rugs
Area rugs not only protect your carpet from damage, but they can also enhance the beauty of your living space.
5.) Treat Stains Immediately
If a spill or stain happens, it is best to clean it up immediately. The longer spills go uncleaned, the harder it is to remove them. Use a clean, dry cloth right away to absorb the spill on your carpet.
Get Professional Help
Even with regular vacuuming and by following the tips outlined above, it is best to get a professional cleaning a couple times a year. This is especially important if you have pets. A professional cleaning can remove soils, dirt, bacteria and allergens from your carpets and area rugs. A professional cleaning keeps your house healthier and your carpets fresh.
Find out more about our carpet cleaning services and area rug cleaning. Call us at 778-724-2555 to make an appointment.
Check out our 5 Star reviews on Google and find out why so many customers trust SmithWerks when it comes to their carpets and upholstery. Customer service is number one at SmithWerks!
We take your safety and that of our employees very seriously and have Covid-19 protocols in place. Find out more on our website.
We are excited to see you soon!
Take care and stay safe,
The SmithWerks team