Now that 2020 is coming to an end you can hear the collective sigh of relief! Most of us celebrated the holidays in a quieter than usual way this year. A lot of us are spending more time at home. Many have developed a deeper appreciation for the roles our homes play in our daily lives, and now is the perfect time to clear out any clutter that has accumulated. While we leave this unusual year behind us, let's focus on the new year ahead and get ready!
Here are some tips for decluttering what's no longer needed in your home: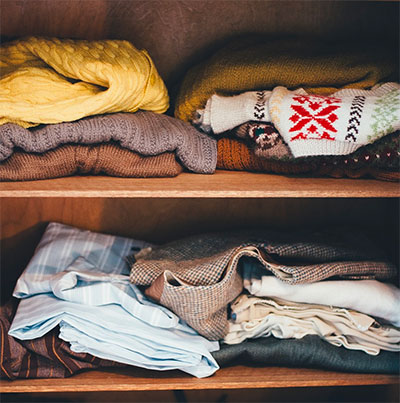 Old winter clothes and accessories
Do you have a closet full of clothing and accessories from past winters that have gone untouched for years. Now's the time to donate it. Check in with your location donation center to see how their hours or accepted items list may have been affected by the pandemic.
Food in the pantry and fridge
Speaking of donating, if you have any boxed or canned food that you didn't end up using over the holidays, donate it to your local food bank. And of course, check your fridge for any expired items.
Expired products
After you've cleaned out the fridge, check the dates of the items in your bathroom. From shampoo and makeup to medicine, throw out any products that are expired.
Puzzles, toys and games with missing pieces
Chances are you did at least one puzzle in 2020. Have you ever pulled out an old puzzle only to find out much later that there is a missing piece? So frustrating! Throw out the puzzle and the same goes for card decks, toys or other games that have missing pieces.
Your home office
For many people, this past year has given new meaning to the phrase "working from home," and as a result, home offices around the world have become more relevant than ever. Whether a dedicated room in a house or a corner in a kitchen, it's important you create a functional work area. Throw out any paper that needs to go to recycling, check all your pens and make sure they still write and clean up your desk so you are ready to go full steam ahead in the new year.
Carpets and upholstery
Spending more time at home means that your carpets and upholstery get used a lot more. In addition, winter comes with dirt and slush that gets trapped in the house and on carpets. Check the condition of your carpets and upholstery and call us to schedule a professional cleaning. We have Covid-19 safety precautions in place. Customer service is number one at SmithWerks and we look forward to finding out how we can help you!
Book your appointment with us by calling 778-724-2555 or fill out a quote request.
Take care and stay safe,
The SmithWerks team